The following 6 steps are necessary to gain important information for your therapy planning with the help of liquid biopsy.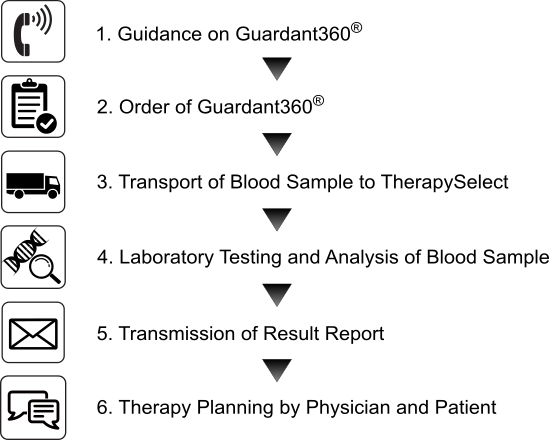 ---
1. Guidance on Guardant360®
Before a liquid biopsy is applied there is the possibility for guidance. The guidance shall serve to determine if a liquid biopsy is applicable for a specific patient or if an alternative test would be more useful. Furthermore additional information about the ordering procedure can be obtained. The contacting can be done via the
Contact Form
or via
Phone / Fax / Email / Mail
.
---
Order:
We require the following documents for ordering the test:
The documents are provided after request. Please contact us.
Requisition Form (signed by the physician)
The Guardant360® Requisition Form can be requested via our Contact Form or via Phone / Fax / Email / Mail.
Patient Consent and Order Form (copy for TherapySelect, signed by the patient)

The documents need to be sent back to us via Fax / Email / Mail.
Here are our terms and conditions.
Shipment of transport kit
For blood draw a special transport kit is required. We provide you with the transport kit.
For ordering the transport kit, any questions regarding filling out the documents or further questions, please do not hesitate to contact us (Tel.: +49 (0)6221 - 8936 - 157).
---
3. Transport of Blood Sample to TherapySelect
For the transfer of the blood sample the requisition form for the liquid biopsy has to be signed by the treating physician.
Afterwards the blood sample can be sent back to TherapySelect in a special kit (important: do not cool or freeze sample).
After arrival of the blood sample at TherapySelect it will be transferred immediately to Guardant Health for analysis.
---
4. Laboratory Testing and Analysis of Blood Sample
After the blood sample arrived in the laboratory of Guardant Health the laboratory testing is performed in order to detect present mutations by digital sequencing. The obtained data are evaluated carefully and the efficacy of associated targeted drugs and the level of ctDNA is determined.
---
5. Transmission of Test Report
Guardant360® - Test Report
The test report includes information about the present mutations of a patient as well as information about potential efficient therapy options and inefficient drugs for this patient. In addition it is reported if clinical trials for non-approved drugs are available. The level of ctDNA is also included in the test report.
The results are sent to TherapySelect and TherapySelect transfers the results to the treating physician.
---
6. Therapy Planning by Physician and Patient
The treating physician receives the Guardant360® test report to decide about the future therapy steps. It is possible for physicians and patients that TherapySelect explains the test report to them in the case of questions regarding the results.
The decision which therapy is applied is made together by physician and patient.